Jun 01 Reblogged
While democracy does most things well, I think we need to confront the fact that it does not make the best cities. And that the cities that were great were rather top-down. You know—Paris and Rome, the grid of Manhattan. What would those have been like if there hadn't been some top-down stuff? Every landowner would have done a separate little pod subdivision. That's one of the things that's naive about Americans—extremely naive, I find, as an outsider having lived in places that are possibly less democratic, like Spain. This idea that you have an individual right to do whatever you want with your land is very democratic, but the result is pretty questionable.
—
Andres Duany
I've been thinking a lot about cities lately, specifically about awnings. Yes, awnings. These seemingly innocuous architectural details that turn a sidewalk into a space or a shelter, awnings also make it possible for a community to get around on foot.  I wonder what this means in the kinds of cities where human dignity is so severely compromised that an awning is not just a means to get around or to shelter oneself from the sun and rain. An awning is a kind of roof, or it becomes one when it shouldn't be one. At least not in that sense. Blame poverty. Blame the bloated sense of entitlement that comes with it. Blame the multitude of ways in which (and I truly believe this) charity has backfired. An awning becomes a doleout, but that depends on how you see it.
Lately, it's become so hard for me to trust that people will open themselves to other possibilities and ways of seeing. Especially here and now. How do you get people to understand that just because something is "there" does not mean it's free for the taking, and just because it's "someone else's" it doesn't mean you're just as accountable for its upkeep? Cities populated by transplants have shown that it is possible to cultivate community without roots, it's just a matter of shared responsibility. How do you get this message across in a city like Manila?
In Manila, space is such a luxury and shelter is so hard to come by that people have resorted to living under bridges next to turbid rivers. Rather than understand the potential and possibility in building closer to the ground, we've allowed both the urban landscape—and the cost of rent—to grow vertically, surprisingly without actually changing the standard of living.
When it comes to what Andres Duany is saying, Manila is a clear result of ignoring top-down execution, in favor of short-sightedly pleasing everyone involved, leading to the disastrous results we have today. First, by "everyone", we're usually talking about land developers, landowners, and contractors, without considering who actually uses the land. And by "land" what do we even mean, because I'm not comfortable—and never was comfortable—taking the arguments back to agriculture and working in defense of a more socialist ethos. It didn't work, and it would be hypocritical to go there. I've embraced my inner capitalist, but I've also recognized that a conflicted identity leaves very little choice besides resolution. It's easier said than done, but it's not supposed to be easy. And in these arguments about the so-called "land," I stumbled across these prints from Pink Tentacle of the Namazu-e, a mythical catfish that was said to have caused the Great Ansei Earthquake by thrashing around in its underground lair.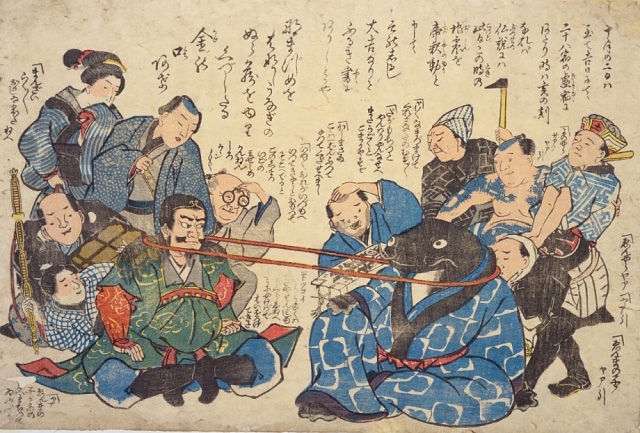 What I find extremely interesting about this print in particular is that it balances the disaster out in a very pragmatic (albeit insensitive) matter between those who lose and those who gain. On one side, we have the contractors, the journalists, and the firemen, or those who benefit. On the other side, there is the tragedy, the loss of homes. But you do get to rebuild your life, and the point is it's up to you how to address this.
I've been constantly amazed by how places rebuild themselves and recover, and Tokyo (or most of Japan I guess) is a clear picture of how this whole top-down mechanism works out. Of course, for Manila, you'd still have to understand what constitutes the top, and what constitutes the bottom, and that's where things get messy and naive. Besides awnings, I'd also want to talk about image models for condos, but that will take a separate entry to hash out.
(via orallymupright)
Notes
rumilb reblogged this from orallymupright
orallymupright posted this